Botox in Nashville
When you peer into the mirror and your eyes find more lines than memories, it might be time to consider Botox, the revolutionary wrinkle-smoothing treatment. At the Southern Plastic & Reconstructive Surgical Institute, Dr. Nathan Brought offers effective Botox in Nashville, TN to those looking to turn back the clock in one short office visit.
What is Botox?
Botox is a neurotoxin approved for cosmetic rejuvenation. Similar products are Dysport and Xeomin. In 2002, Botox was approved by the FDA for cosmetic use in the United States. Dysport and Xeomin were approved in 2009 and 2011, respectively. These products are derived from a purified piece of a protein found in Clostridium botulinum which is a bacterium.
While each product is FDA-approved for use in the area between the eyebrows, where the glabellar lines often form an "11", Botox is also FDA-approved for treating "crow's feet" at the side of the eyes. In addition to these indications, Dr. Brought also uses Botox to treat wrinkles on the forehead, near the eyebrows for a mini eyebrow lift, and by the mouth — "smoker" lines. Botox is also effective for treating the bunny lines around the nose. Non-cosmetic uses for Botox include the treatment of excessive sweating, TMJ disorders, eyelid spasm (blepharospasm), migraine headaches, and the misalignment of the eyes when one or both eyes turn inward or outward (strabismus). The benefits typically last from three to six months.
How Botox Works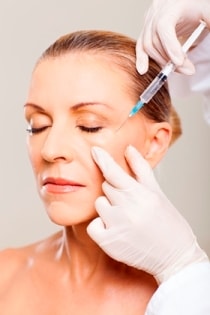 The proteins block the local receptor sites that lead to muscle activity. As a result, the treated area will experience temporary resolution of "active" wrinkles, those formed by muscle contraction. This treatment will need to be repeated to prevent the slow reversal of previously treated wrinkles.
After injection, the Botox proteins will block the receptors that lead to muscle activity in your face. This will freeze "active" wrinkles that were formed by muscle contraction. The results are not permanent, and the treatment will need to be repeated in order to prevent the reversal of treated wrinkles.
Schedule A Consultation Today
Possible Side Effects of Botox
After the Botox is injected into your skin, it is possible that you may develop temporary swelling or bruising at the injection site. This is a normal side effect and will disappear over time. Applying ice gently to the affected area can reduce these side effects.
Who Should Not Get Botox Treatment
Botox is a popular treatment, but it is not appropriate for everyone. If you have a history of being allergic or hypersensitive to Botox injections, you should avoid seeking further Botox treatment. If you are pregnant or have an active infection where you want treatment, you should wait to get Botox.
You should also notify Dr. Brought of certain medications you are taking, including supplements and over the counter vitamins. Abstaining from alcohol, aspirin, ibuprofen, and St. John's wart, or Vitamin E for seven days before your treatment is recommended. Doing so can help you avoid unnecessary swelling and bruising. This is especially important if you are getting Botox in preparation for an upcoming special event, and we recommend giving yourself ample time between your appointment and any special event.
What Can I Expect During the Botox Treatment?
If you are a suitable candidate, Dr. Brought will inject it using a very small needle into the areas where you request treatment. We will provide you with ice or cool packs before treatment to relieve any discomfort. This can also help to reduce swelling and bruising.
What Can I Expect After the Botox Treatment?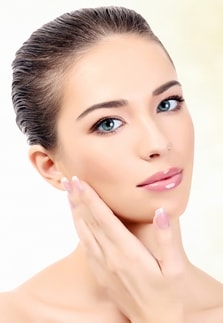 Treating your eyebrows and your forehead may mean getting well over a dozen small injections. He may numb the area first with a topical anesthetic. The finest lines may disappear right away, but the deepest wrinkles may take several days to fade. You will see the full effects after about two weeks after injection.
Dr. Brought will remind you to avoid rubbing, or massaging, the injection sites, as this can force the product to unwanted areas where decreased muscle activity is not desired. Strenuous exercise, as well as anything that could raise your blood pressure or heart rate, should be avoided on the day of your treatment. We recommend you avoid direct sun exposure on the day of your treatment, as well, as these activities can increase your risk of bruising.
Botox Results
Botox make take a few days to work, and after approximately a week, you should see the full effects. You should see the muscles begin to relax and the fine lines start to fade. If after two weeks, you notice there are a few unwanted lines remaining, you may want a touch-up with additional units. Dr. Brought likes to use a concentrated mixture of Botox and tries to be conservative with injections in order to give you the best results while being cost-effective at the same time. You can always add a little more if needed.
We highly recommend you always see an experienced injector, if not a board-certified physician, in order to minimize the risks of adverse effects such as a "frozen" face, eyelid drooping, or decreased function of muscles which may have an undesirable effect.
Botox Parties
Are you interested in hosting a Botox or filler party? Dr. Brought and his staff are available to help you host a private event at a location of your choice — or at his office — in an informal setting with you and your friends who are interested in injectables. Botox parties are ideal for those who may not have the time, ability or desire to be seen in an office setting during regular business hours.
Events may range from catered parties to small groups of friends who would like to be treated in the privacy of their own homes. In addition to providing Botox injections, we are also able to perform filler injections such as JUVEDERM® and Voluma, as well as provide information and products from our skin care lines.
Dr. Brought and/or his staff will also be available to answer any questions you or your guests may have regarding any of the various services we provide at SPRSI. The more Botox/product your party purchases for your event, the cheaper it is per unit. If interested in more information or for scheduling an event, contact us at SPRSI for more details.
Botox For Chronic Migranes
Botox can also be used to help relieve chronic migranes when traditional medicine does not help. Botox is injected into the back, side, or front of the head in order to lower expression in pain pathways often associated with causing chronic migraines. Read more...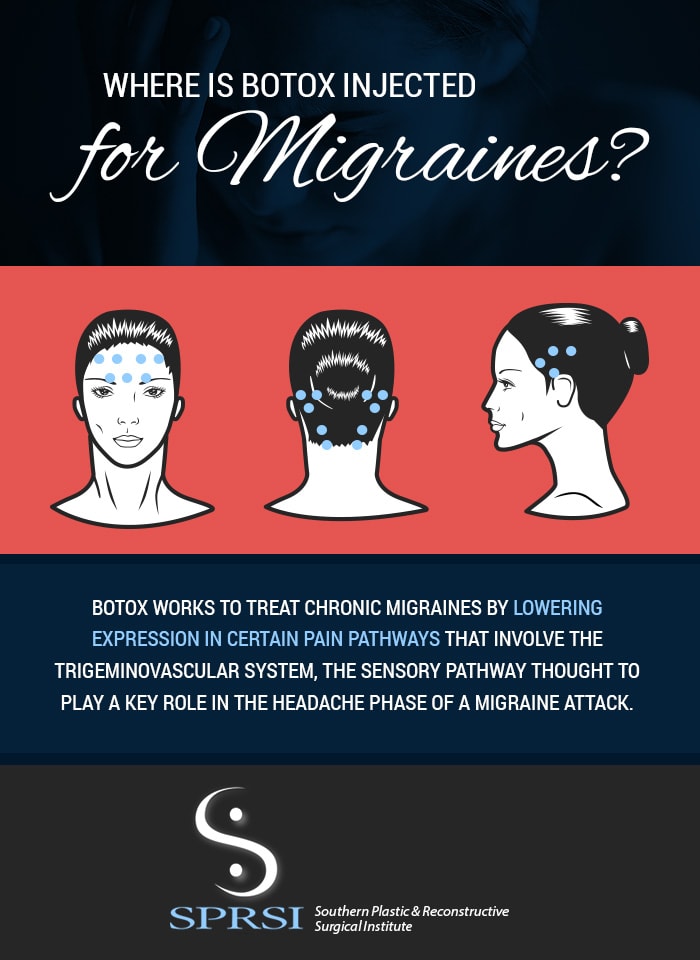 Botox Cost
How much your Botox costs depends on the extent of your intervention. More units and more areas treated generally increase the cost. Nationwide, Botox injections range between $100 and $1000, with an average of $500 per visit. Dr. Brought's Botox patients typically pay at or near the national average.
Problems Botox Solves
When you want to look and feel your best, a Botox treatment could be the answer. There are several problems of aging skin that Botox can solve.
Botox for Wrinkles Around Eyes
One of the first visible signs of aging for many women are tiny wrinkles around the eyes. A couple of Botox injections into the muscle around your eye can relax those under-eye wrinkles and result in a more youthful appearance.
Botox for Crow's Feet
For any one who squints at all, over time, crow's feet become a problem. The skin around your eyes starts to hold those wrinkles instead of releasing them like it should. Botox can make those crows feet disappear and stay away for up to four months, or even longer.
Botox for Lips
While Botox is not a good lip filler, it can be used to reduce lines and wrinkles around the lips. It can also provide a slight lift to the middle part of the lip, improving the youthful appearance of the mouth. For total lip enhancement, Botox can be used in conjunction with other treatments.
Botox for a Forehead Lift
Botox is extremely useful for lifting and reshaping the brow. When injected in the proper areas to affect the small muscles around the brow, Botox can give the eye area a whole new look.
Botox for Wrinkles Around Mouth
One drawback to years of smiling is those wrinkles around the mouth that tend to betray your age. Botox can be used to smooth out all those wrinkles and give the mouth a more youthful appearance. Botox also helps filler used in the mouth area last longer.
Botox FAQ's
Here are answers to some questions we get asked frequently about Botox:
Can you get Botox when breastfeeding?
Cosmetic use of Botox is in extremely small doses and is approved for use in children, and there is no proof that Botox can be absorbed into your system and secreted in breast milk. Despite that, most doctors advise against getting Botox treatments while you are breastfeeding.
How Much Botox Do I Need?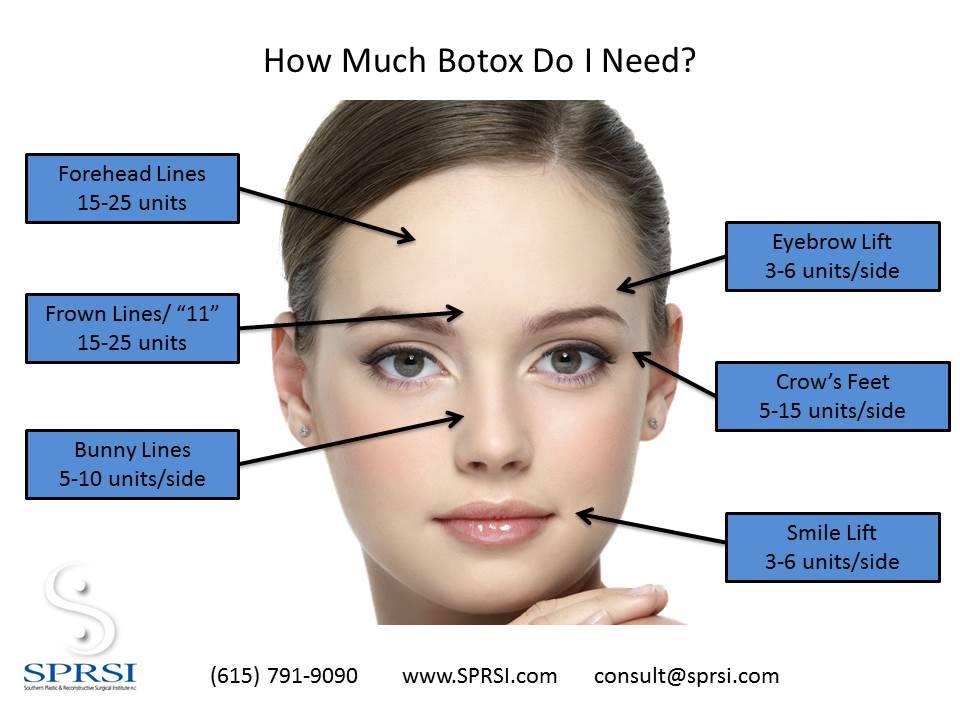 If I get Botox will I still be able to smile?
Botox does prevent muscles from contracting and thereby reduces movement in your face. It is administered carefully to only certain small muscles to relax the skin wrinkling. Botox treatments will not restrict your ability to smile when injected properly.
How can I reduce bruising from Botox treatments?
Arnica is an all natural substance that treats bruising. It can be taken for several days before and after your Botox treatments. Avoiding strenuous exercise on the day of your Botox treatments can also help reduce bruising. Also, do not take omega 3, fish oil supplements, aspirin or any blood thinners for a week before your Botox treatment.
If I get Botox, will everyone know it?
There is no reason for Botox treatments to be obvious. When done right, a little at a time, the changes in your appearance from Botox will seem natural. Your face will have a more youthful appearance and not look over-done or obvious.
Can Botox be used to prevent wrinkles?
Wrinkles develop over time and become deeper and more pronounced. When they reach a certain depth, they become noticeable because your skin does not bounce back. By using Botox before your wrinkles develop, you can keep them from forming in the first place or becoming deep enough to be noticeable if there is muscle contraction that can be inhibited. Dr. Brought rarely recommends Botox as a preventive measure for wrinkles.
About Dr. Nathan Brought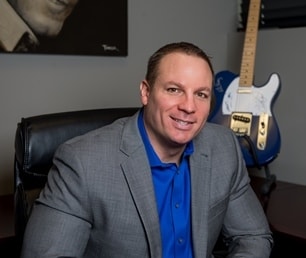 Plastic and reconstructive surgeon Dr. Nathan Brought serves patients in the Franklin, Nashville, Memphis, Knoxville and Chattanooga, TN region. He is double-board-certified in general and plastic surgery, and he performs a broad range of cosmetic and reconstructive procedures to qualified patients. Dr. Brought also provides advanced skin care services, including Botox treatments.
For more information about Botox or to schedule an appointment with Dr. Brought, contact SPRSI.
Information on Other Facial Procedures
View Our Before/After Gallery
Schedule A Botox Consultation Today