Breast Reconstruction Surgery
At SPRSI, Nashville, TN reconstructive breast surgeon Dr. Nathan Brought performs breast augmentation, reduction and lift services. Schedule a consultation for your own breast reconstruction surgery in Franklin, TN, and find out how SPRSI's holistic approach to health and wellness can leave you looking and feeling your very best.
A Holistic Approach to Breast Reconstruction Surgery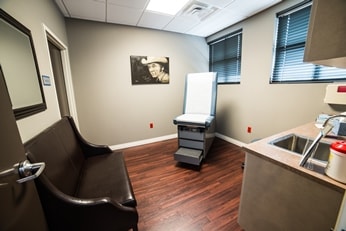 For clients who have suffered from breast cancer or simply desire to enhance their appearance, osteopathic physician Nathan Brought provides expert reconstruction, augmentation, lift and reduction services. Unlike other surgeons who simply evaluate then treat a client's issue, Dr. Brought's holistic approach to reconstructive, enhancement or reductive surgery means he evaluates the whole client, not simply the areas needing attention.
Quite simply, just as every client's goals are distinct, so are their needs and limitations. That is why Dr. Brought and his team of professionals at SPRSI specialize in providing whole-self care with an eye toward highly-customized, individual attention. Using this tailored approach, Dr. Brought believes he can provide the best possible results.
Schedule A Breast Reconstruction Consultation Today
Natural-Looking Breasts Through Expert Reconstructive Technique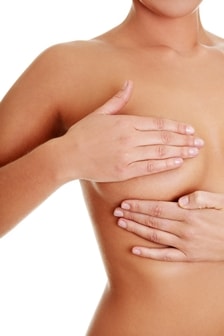 Undergoing a mastectomy is an emotionally overwhelming experience, and achieving natural-looking breasts following this procedure is a top priority for many women. Dr. Brought and his experienced staff enjoy helping women feel better about themselves following a mastectomy, and he uses advanced techniques to create natural-looking breasts using the patient's own tissue, tissue expanders and silicone or saline implants. The results, while aesthetically-pleasing, also help women move on from the often-traumatic breast cancer experience.
Breast Reconstructive Surgery With AeroForm Tissue Expanders
CO2 AirXpanders or tissue expanders are a revolutionary and significant innovation for breast reconstruction. The AeroForm Tissue Expander System is designed for soft tissue expansion in treatments of:
Breast reconstruction following a mastectomy.
Undeveloped breasts.
Deformities of soft tissue in the breast.
Instead of using saline and needles after a mastectomy to expand your tissue for a breast implant, the surgeon uses the CO2 cartridge and a Bluetooth remote for the inflation process. This technology eliminates needles, patient discomfort, accidental expander puncture, a lot of office visits and potential infection. It's truly a cutting-edge technology.
Here at our Southern Plastic & Reconstructive Surgical Institute in the greater Nashville, TN area, Dr. Nathan Brought has been using CO2 tissue expanders since April 2017 for qualified breast reconstruction patients. This has offered them many benefits, including quicker expansion times than saline, fewer office visits, needle-free alternatives and self-expander control. Our team has been among the first in the nation to offer this technology to breast cancer patients who undergo reconstruction.
Let's take a more in-depth look at what CO2 tissue expanders are and how they may benefit you.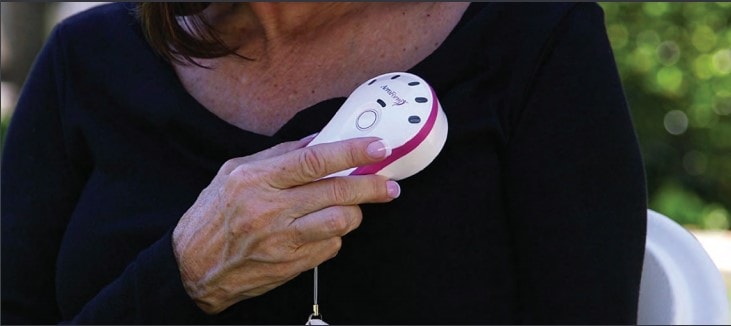 What Are Breast Reconstruction Tissue Expanders?
What is a tissue expander? You can think of it as a breast reconstruction method that involves using a tissue expander to stretch your muscle and breast skin. Is a tissue expander permanent? The answer is no. Patients use them only temporarily. After a few months, when you and Dr. Brought feel your breast size is appropriate for you, he removes the expander, and you'll typically receive a permanent breast implant at that time.
Breast tissue expanders are inflatable breast implants that stretch your muscle and skin to allow room for permanent implants in the future. The AeroForm system is a patient-controlled, needle-free expander that surgeons use in breast reconstruction where the surgeon places the expander into the reconstructed breast pocket following your mastectomy.
This means you use a dosage controller to self-inflate the expander. Through a remote dosage controller, carbon dioxide gradually fills the expander, stretching the area where your implant will be placed.
The device, which AirXpanders of Palo Alto, CA manufacturers, is simple to use — and you can operate it right from your home, on vacation, or wherever you may be, eliminating the need for weekly office visits during expansion. You expand the device gradually using the remote that creates space under your skin and even your chest muscle. The gradual daily expansion, as opposed to weekly expansion, typically requires half of the time of traditional expansion with saline, and is much better tolerated by patients. Once it creates the space, your surgeon removes the expander and replaces it with a breast implant.
About Radiation and Chemotherapy With Tissue Expanders
If your oncologist recommends radiation or chemotherapy following your mastectomy, the CO2 tissue expanders may still be an option. This is something to discuss with your surgeon and radiation oncologist.
Benefits of Tissue Expanders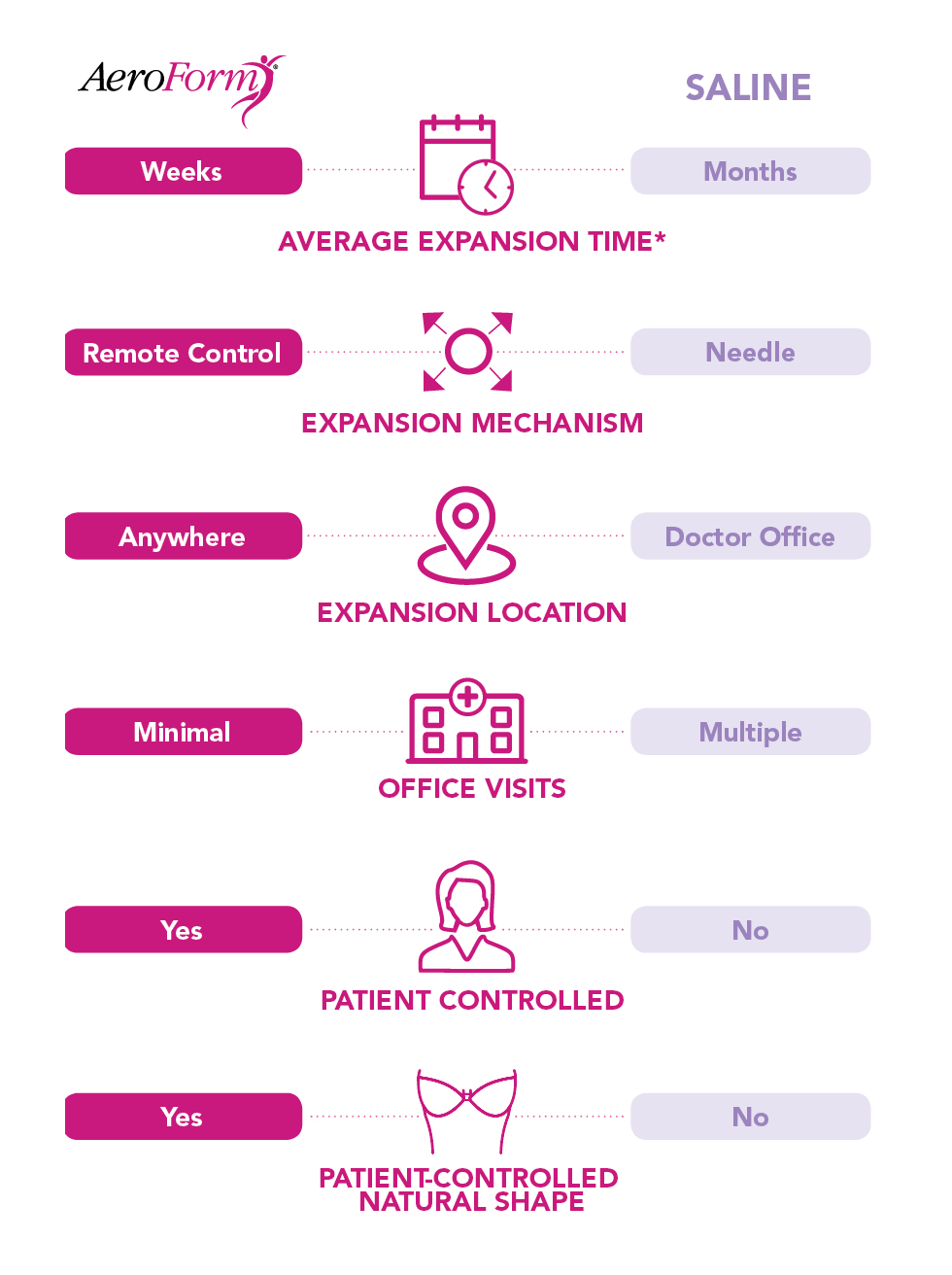 While there are multiple benefits to breast reconstruction tissue expanders, some include:
Quicker expansion than saline (typically in weeks instead of months).
No needles needed, therefore less discomfort, and less risk of percutaneous infection from needles
Patient-controlled.
Requires fewer doctor visits.
Patient comfort
Although two-stage breast reconstruction is becoming an attractive option that involves a sequence of saline injections administered into expanders creating enough space to insert a permanent implant, it requires many needle pricks and frequent visits to the doctor. It also poses an infection risk. However, with the CO2 expander, you use a remote control to release the CO2 to receive the same effect, but with no needle pricks.
See If AirXpanders Are Right For You
What Are Traditional Tissue Expanders Made Of?
In general, tissue expanders have a plastic or metal port (coil, plug and valve) that makes it so your surgeon can increase the salt water solution over time until your skin stretches enough to where he can insert the implant.
With traditional saline expanders, you'll receive a sequence of injections full of salt water into the tissue expander over the course of a few months to stretch your skin. You may feel some pressure or pain following each injection, but this feeling only lasts for a few hours and is typically gone by the following day.
However, this process requires multiple visits to your breast reconstructive surgeon and several needle pokes, which is unlike the AeroForm tissue expander process whereby no needles are used and you have fewer doctor visits.
Your surgeon performs this process typically three to four weeks following your mastectomy and continues until it reaches a size that's appropriate for you. Your surgeon will often reconstruct your nipple and areola (dark skin that surrounds your nipple) in a subsequent procedure if necessary.
How CO2 Tissue Expanders Are Modernizing Breast Reconstruction
There are several benefits to the CO2 tissue expander approach including:
Modernization, Comfort and Convenience
The AeroForm Tissue Expander system brings innovative wireless technology into two-stage breast reconstruction. It provides your patients with full expansion without the use of needles and fewer doctor office visits.
While there is some mild discomfort or pressure during the tissue expansion — due to the gentle stretching of the chest muscle — most women find that it isn't very uncomfortable.
FDA Approved
The AeroForm expander is approved by the Food and Drug Administration (FDA) for patients who decide to get reconstructive surgery after they've had a mastectomy or for patients who have soft tissue deformities and underdeveloped breasts.
FDA approval came after reviewing the results from the XPAND clinical trial that involved 52 patients who used a saline expander and 99 patients who used the AeroForm expander. It took 30cc per day to perform expansion with the AeroForm expander, while the control group using saline received the traditional percutaneous injections. Tissue expansion took significantly less time with AeroForm, occurring around 21 days. It took 46 days for the group using saline.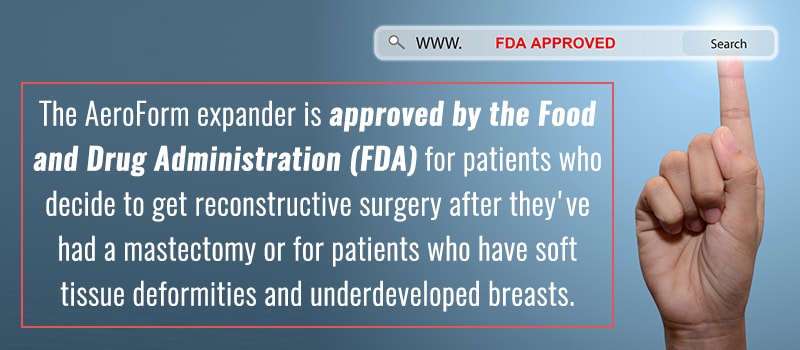 According to the FDA, a surgeon must decide if you're a good candidate for treatment using the AeroForm device. While the device is in place, you can't undergo an MRI, and you can't have any residual tumor at the site where the expansion takes place.
You're not eligible for this system if you have another electronic implant like a neurostimulator device, pacemaker or a defibrillator.
AeroForm vs. Saline
The difference between AeroForm and Saline include the following:
Average expansion time: With saline, it takes months to achieve the desired expansion. It's only weeks with AeroForm.
Expansion method: Saline uses a needle for expansion, while AeroForm uses a remote control.
Expansion location: With saline, you have to go to the doctor's office. With AeroForm, you can sit in the comfort of your own home or any place that is convenient for you. It is even safe to fly with the CO2 expanders.
Office visits: AeroForm requires very few visits to the doctor's office, while you can expect to go to their office multiple times with saline.
Patient control: You're in control with AeroForm under the guidance of your plastic surgeon. This is not the case with saline.
Natural shape: Again, you're in control with AeroForm but not with saline.
Results of Tissue Expanders for Breast Reconstructive Surgery
To help you learn more about the results of tissue expanders for breast reconstructive surgery, we've pulled a few studies, and their results are listed below:
XPAND Randomized Control Study
Research shows in two-stage breast reconstruction, the investigational AeroForm expander device using CO2 was not only comparable to the standard saline treatment, but also had a quicker expansion time on average. And according to Columbia University's Jeffrey Ascherman, MD, the results were excellent. He said that with the CO2 device, the expansion was twice as fast, and the latest update of the expander has a great safety profile.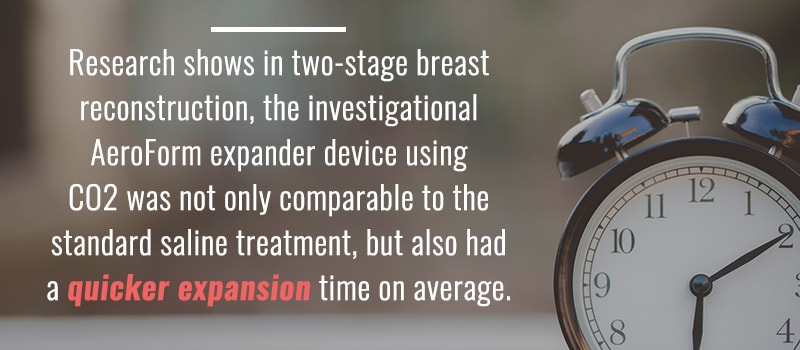 Ascherman and his team conducted the XPAND multicenter, prospective, randomized control study involving 72 patients, of whom 28 patients received the saline expander, and 44 received the AeroForm expander. All patients had a BMI that was less than 33 and were between the ages of 18 and 70 years old.
The patients who were in the AeroForm group experienced expansion in around 17 days, whereas it took 35 days for the saline patients. It took around 111 days before patients completed total reconstruction with AeroForm, while the saline group took 121 days.
| | |
| --- | --- |
| AeroForm Group | Saline Group |
| Expansion - mean of 17 days | Expansion - mean of 35 days |
| Total Reconstruction - 111 days | Total reconstruction - 121 days |
Eighty-nine percent of surgeons and 84 percent of patients said they were overall satisfied with the AeroForm device.
AirXpander Trial
During a trial with 10 patients aged between 30 years old and 65 years old, 14 participants had AirXpanders inserted. Nine out of the 10 patients experienced a 15.8 day period of ongoing expansion. Two seromas were the only complications.
Through this study, researchers found that the new AirXpanders achieve accurate tissue expansion quicker than saline expanders, and they're safe to use. Another benefit is that patients can self-control the process without needing multiple needle punctures or doctor visits.
Expander Trial
In another trial, 21 subjects received 34 expanders. Sixty-two percent of the total involved bilateral procedures, and 88 percent of the reconstructions were latissimus dorsi flap reconstructions. Two subjects received an inferior dermal flap.
There was a 94 percent overall success rate with no device-related failures in the reconstructions. Although two of the subjects did fail reconstruction — one because of wound healing issues and one because of infection — they both received favorable two-stage reconstruction in a later procedure. The trial concluded that the AeroForm system offers a needle-free, time-saving, effective and safe technique of breast reconstruction tissue expansion.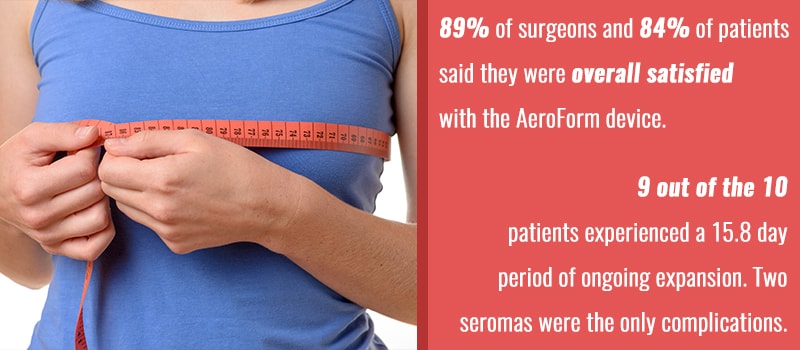 Dr. Nathan Brought, DO, FACOS Board-Certified Plastic Surgeon in the greater Nashville area has been using these CO2 tissue expanders in qualified breast cancer patients who later receive permanent implants since April 2017. He's not only one of the first plastic surgeons in the area to offer the procedure, but also one of the first in the country.
How Tissue Expanders Work
The AeroForm tissue expanders consist of two main components:
AeroForm Dosage Controller
AeroForm tissue Expander
It takes only a click of a single-touch button to make the expander and controller sync and release a 10cc dose of CO2. This allows the expander to expand gradually.
The AeroForm tissue expander system consists of:
MMV™ Technology: The microvalve system that's inside the expander syncs with the controller to release an accurate dose of CO2 in this smart-wave technology. The device will not allow patients to overexpand or to expand too rapidly.
CO2 Reservoir: Stores the compressed CO2.
Silicone Shell and Suture Tabs: Made for minimal movement of the expander and optimal surgical placement.
Anatomically Shaped Inner Liner: Uses lower pole projection to retain delivered CO2
Single-Touch Button: Enables patients to self-control their dose up to three times each day.
Intelligent Lighting Bank: Offers patients and surgeons audible and visual real-time expander fill level and dosing information.
FAQs About Breast Reconstructive Surgery With AeroForm Tissue Expanders
Now that you know more about what breast reconstructive surgery with AeroForm tissue expanders are, how they work and their benefits, let's cover a few frequently asked questions:
What Makes a Good Candidate for This Type of Procedure?
So, who is a candidate for AeroForm? Women who are receiving a mastectomy procedure or have had one already and require tissue expansion for breast reconstruction are good candidates for this procedure. Women who have undeveloped breasts or deformities of soft tissue in the breast may also qualify for this tissue expansion procedure.
It's important to consult with your surgeon first to make sure you're a good candidate for AeroForm.
Are Breast Reconstruction Tissue Expanders Covered by Insurance?
Is AeroForm covered by health insurance? That's a good question. Insurance companies that already cover the cost of a mastectomy procedure are now obligated to cover breast reconstruction costs under the U.S. Women's Health and Cancer Act of 1998. This also includes women who have cancer in the other breast, a significant family history, or genetic risk and decide they want breast reconstruction after a preventative mastectomy.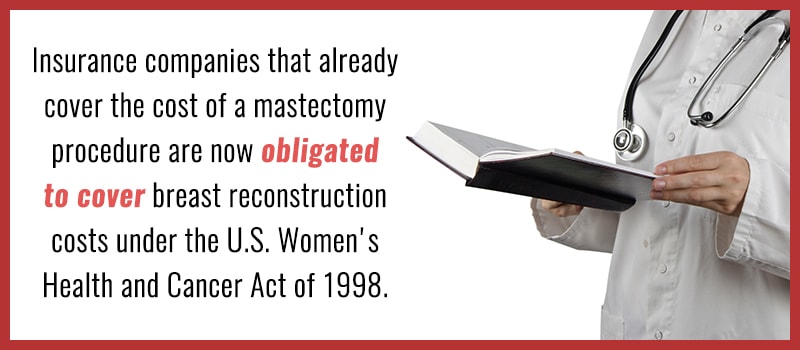 Surgical procedures, such as a breast lift, breast reduction or breast augmentation, should also be covered to ensure that both breasts are as close to the same shape, size and position as possible. In the U.S., breast reconstruction charges include the costs of the AeroForm system. However, it's always best to contact your insurance provider to get your questions answered.
Are There Limits on the Number of Doses You Can Give Yourself Each Day?
There is a limit of three 10cc doses daily. You need to wait at least three hours between each dose until the expander reaches its target volume. Your plastic surgeon keeps a master key to the remote which allows him or her to adjust the dose intervals or the amount of CO2 instilled during a single dose.
When Can You Receive Breast Implants After Completing Your Expansion?
This time can vary, so it's best that you talk with your surgeon to determine approximately how long your expansion will take, when it's complete and if you've healed enough for your surgeon to insert your breast implants.
If you're considering breast reconstruction with tissue expanders like AeroForm, contact Dr. Nathan Brought who already has the experience using this system. Dr. Brought has been using the cutting-edge AeroForm CO2 tissue expanders before placing permanent implants in qualified breast cancer patients since April 2017 and believes it is already changing breast reconstruction positively.
To learn more about breast reconstructive surgery with AeroForm tissue expanders or to see if you are a candidate, contact Dr. Bought today by completing this form or calling 615-791-9090.
A Truthful Assessment
Dr. Brought also believes in providing truthful, realistic assessments to his clients. By keeping an open and honest dialogue with you regarding the desired shape and size of your reconstructed or enhanced breasts, Dr. Brought can tailor the results to meet your realistic expectations. And because the SPRSI staff is known for attentive and friendly care, you can expect that your needs will be addressed before, during and after your reconstructive procedure.
Unparalleled Client Service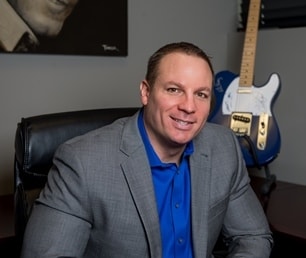 Many other plastic and reconstructive surgeons make use of the answering service to address off-hours calls. Not only does Dr. Brought provide his clients with a number where he can be reached at all times, he also doesn't use an answering service. SPRSI schedules appointments during evenings and off-hours, too, because he believes in being there when you need him most. Contact Dr. Brought for a consultation today and see if breast reconstruction surgery is right for you. Get back to looking — and feeling — like yourself with SPRSI.
Information on Other Breast Procedures
View Our Before/After Gallery
Schedule A Breast Reconstruction Consultation Today