Breast Augmentation & Implant Procedure
It is very common for women to feel uncomfortable with the appearance of their breasts. Some women wish for larger breasts, while others want to restore the volume they had prior to weight loss. Pregnancy and nursing can affect the size and shape of the breasts. Implants are also used for breast reconstruction surgery following mastectomy.
Breast enlargement surgery can create a fuller, more balanced silhouette. It can also restore a youthful appearance and improve feelings of confidence. Breast enlargement alone will not always correct sagging breasts, however; if you want larger breasts that do not sag, you may desire a breast lift, or mastopexy, in addition to enlargement.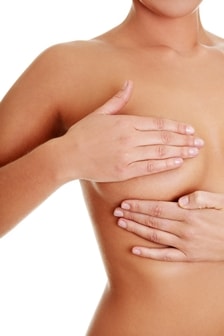 Augmentation mammoplasty typically uses breast implants or a combination of breast implants and fat grafting in select reconstruction patients. Implants allow you to choose your size, although other factors — such as breast anatomy, body type and skin elasticity — play very important roles. The implants and supporting procedures, if necessary, will create a balanced appearance with a proportion that pleases the eye and can improve your self-confidence. Dr. Brought is a FACOS Board-Certified breast implant surgeon in Franklin, TN. To schedule a consultation with Dr. Brought, contact SPRSI today.
Are You a Good Candidate for Breast Augmentation?
Breast augmentation is a personal decision which should be made for your reasons, not to satisfy someone else's requests or fit an ideal image. We often consider patients to be good candidates for breast augmentation if you are physically healthy and dissatisfied with your existing breast shape, size, or volume. These factors could possibly be due to weight loss, pregnancy, or aging. During your initial consultation, Dr. Brought will discuss your goals and expectations for the procedure and what your desired outcome would be. We will discuss topics such as desired size, shape, implant type and incision site. Patients often bring in pictures of breasts similar to what they desire after their augmentation procedure.
Schedule A Breast Augmentation Consultation Today
What to Know About Breast Implants and Enlargement Surgery
There are several breast enlargement options to consider. If you are a suitable candidate for surgery, Dr. Brought will review his recommendations and suggest options based on the evaluation during your breast implant consultation in SPRSI's Franklin, TN location. He will also discuss your implant options.
Types of Breast Implants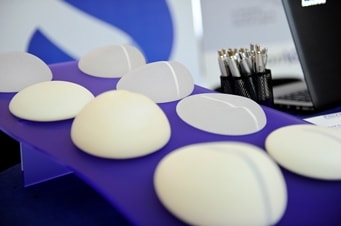 Saline implants are filled with sterile salt, or saline, water. How much saline is inside the implant can affect the look and feel of your breasts. If the implant should leak while inside your body, the implant will collapse and your body will absorb the liquid and naturally expel it. If the implant breaks, you will need to have it replaced — or the other implant removed. Saline implants are approved by the Food and Drug Administration (FDA) for women in good health over the age of 18 (or younger if for reconstruction purposes).
Silicone implants contain silicone, which is an elastic gel that mimics the feel and movement of natural breast tissue. If a silicone implant leaks, the gel might leak into the breast. Unlike the saline implant, a silicone implant might not collapse. You should plan to follow up with Dr. Brought periodically to assure your silicone implants are functioning properly. Common tests, such as mammography, MRI and ultrasound can help to assess the condition of the silicone breast implants. The FDA has approved healthy women over the age of 22 for silicone implants, or younger if for reconstruction purposes.
Dr. Brought will also discuss the different shapes and styles of breast implants. This includes high profile, moderate plus profile, and moderate profile. Based on your anatomy, size, and shape Dr. Brought will discuss the type, shape, and style of implant that will be best for you.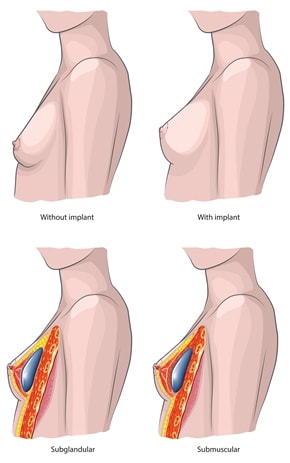 Location of Breast Implants
Dr. Brought most often places the implant under the pectoralis major muscle in the submuscular location, but depending on the individual circumstances, he may recommend placement in the submammary pocket over the muscle and under the breast gland. Several factors go into the method chosen for insertion and placement of the implants, including the type of implant chosen, the degree of enlargement desired, your unique body type, personal preferences and Dr. Brought's recommendations.
Breast Implant Results and Risks
You will notice the results immediately. As you heal, your breasts will also drop to a more natural location, and your incisions will fade.
Breast enlargement is a common procedure, but there are risks. The most common side effects include changes in nipple sensation, implant leak or rupture, implant rippling, poor scarring, asymmetry and capsular contracture.
Pregnancy, aging and gravity can affect the appearance of your implants over time. Implants often do not last a lifetime, and many patients may undergo an implant exchange or a breast lift after several years to maintain a natural youthful appearance. Questions? Contact SPRSI today if you're considering a breast implant procedure in the Nashville area.
Recovery from a Breast Implant Surgery
Dr. Brought will dress the incisions with gauze, and you will awaken wearing a bandage or support bra. These will help you feel more comfortable after surgery, especially since swelling and soreness after the surgery is common.
Dr. Brought will provide specific instructions on how to care for the incisions, as well as what type of bra to wear and different massaging techniques. You should expect to gradually increase your activity level for the first few weeks after surgery, although typically patients are able to return to work soon after surgery.
Are Breast Implants Safe for Me?
Breast enlargement, as well as the implants themselves, does not impair breast health. Studies have found no proven link between breast implants and health problems such as breast cancer, autoimmune diseases, or other systemic illnesses. In addition, tests such as mammography and MRI are still effective after breast implant surgery.
FAQ's for Breast Enlargement Surgery
If you've been wondering if breast enlargement surgery is right for you, it's likely you've asked yourself these questions:
What size breast implants should I get?
The decision to get breast augmentation surgery is a personal one. Dr. Brought can discuss the options with you and help you decide what size is right for you.
How long do good breast implants last?
Breast implants are meant to be permanent. When implanted properly in a healthy woman, implants should not need to be repaired or replaced. If they are examined regularly, just like natural breasts, to be sure they are still performing well, breast implants can last forever. The most common reason for breast implant replacement is to change their size, not because of failure of any sort, although the possibility of complications requiring replacement does exist.
Will breast implants keep my breasts from sagging as I age?
Many women opt for breast implants to improve the appearance of their body profile without changing the size. Implants can be used to adjust the position of the breasts and the shape. Implants may sit higher on the chest than your natural breasts, but over time they can sag, too. The implants are not immune to gravity, and the same muscle loosening that caused your natural breasts to hang lower can affect your implants.
Does breast augmentation require multiple surgeries?
Most breast implant procedures are done in one surgery with a couple follow up visits to the office to monitor the healing process. You may opt for a follow up procedure after several years to lift or reshape your breasts. Some women decide to change their breast size a second time several years later.
How soon after breast augmentation surgery can I exercise?
You can begin a light exercise routine about a week after your breast augmentation surgery. You will need to avoid jogging or any exercises that require arm movement over your head. It will be at least four to six weeks until you are back to your normal exercise routine. It can be more, however, if you heal slowly.
Will my breast augmentation surgery leave scars?
Any time you cut the skin, as we do for breast enlargement surgery, there is a risk of scarring. The incisions in plastic surgery are planned to conceal scars where they will not be visible. Additional precautions are taken during and after surgery to minimize the appearance of scars as much as possible.
What if I only want to lift my breasts up but not make them any bigger?
Sometimes women are satisfied with the size of their breasts but pregnancy or weight loss caused them to sag. It is possible to have a breast lift surgery that does not change the size of your breasts.
Do I need to know what cup size I want to be?
Cup size is actually a measure used in clothing but not a medical term. When we talk about the size of your breast enlargements, we try not use cup size. Breast implants are sized by volume, and those measurements do not translate into cup sizes. It would be more useful for you to bring a photo of the breasts you would like to have because Dr. Brought will work from those proportions to get the right implants for you.
To begin planning your breast augmentation surgery, schedule a consultation with Dr. Brought today.
Dr. Nathan Brought and SPRSI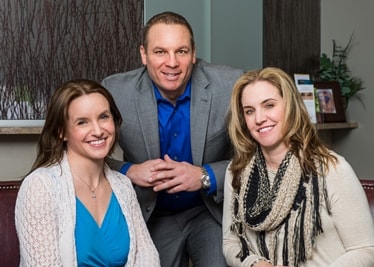 Dr. Nathan Brought is a double-board-certified plastic surgeon in the fields of plastic and reconstructive surgery, and he is the principal of Southern Plastic & Reconstructive Surgical Institute. Dr. Brought serves patients in the Franklin, Nashville, Memphis, Knoxville and Chattanooga, TN region.
Dr. Brought treats every patient with overall health and well-being in mind, and he is a respected member of several professional organizations. His professional memberships include the American College of Osteopathic Surgeons, the American Osteopathic Association, the Tennessee Osteopathic Medical Association, and the Tennessee Society of Plastic and Reconstructive Surgeons.
For more information about breast enlargement surgery or to schedule a consultation with Dr. Brought, contact SPRSI for an appointment in our Franklin, TN office.
Information on Other Breast Procedures
View Our Before/After Gallery
Schedule A Breast Augmentation Consultation Today